This is the advert to relaunch, surprisingly, 'L'Unità ', the historic Italian newspaper founded in 1924 by the Marxist philosopher and theoretical Antonio Gramsci. This newspaper was the official organ of the Italian Comunist Party (PCI).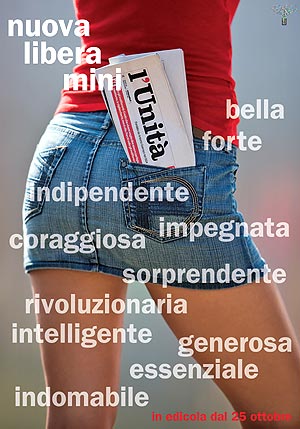 .
The campaign has been created by the controversial Oliviero Toscani to illustrate the transformation process of 'L'Unità ', Italian left-wing symbol newspaper, which has reduced its format (it will be tabloid) and it will have a new design.
Always that female body is used gratuitously to sell a product, that advert is considered sexist. However, Concita de Gregorio, first woman to be at the top of the newspaper in its 84 years of history, doesn't feel that this advert was sexist.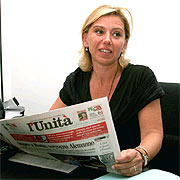 According to her: "I don't think it's right to use a woman image to sell, for example, cars. But in this case, I think it's perfect. Since two months, this newspaper is controlled by the body and the head of a woman, me, so in this case I think is pertinent to use a woman's image."
Toscani also rejects the acussations of sexism. "The miniskirt was revolutionary and, as the format of 'L'Unità ' was going to be reducted, I thought that this image combines very well these two concepts".
"The photo is like her (Concita de Gregorio): solid, present… It isn't the image of a woman in seduction position, but it's the image of ordering", he said.
At the moment, the controversy is there and there are views to suit all tastes. What do you think?
Fuente: El Mundo